Decorating with Collections
Over 30 years ago, I started collecting menus from different restaurants we went to when we traveled.  I just put them in a box and didn't pay much attention to them until about 6 months ago.  We sold our China Cabinet and all of a sudden, I had a wall in my dining room that needed something on it.  I had always planned on hanging the menus on the wall, but had never done it.
Getting Started
Since I had all these menus, over 65, I thought about finally hang them.  But how, without ruining them or the wall.  So, I went to the store and bought what I thought would work best, tacky stuff, but I was wrong.  It worked at first, but after only a few hours, the menus began to fall off of the wall.  So, back to the store I went.  This time I bought Scotch removable tape.  It's made for hanging pictures so it worked great.
Hanging the Menus
I didn't use any rhyme or reason as to where I hung each menu.  I slanted some and hung some straight.  I tried to put the heavy ones at the chair rail to support their weight.  I have had a few to fall at random, but for the most part, everything's great.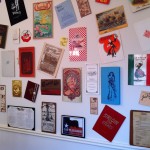 Conversation Piece
At the first dinner party we had after the menus were hung we enjoyed trying to remember going to some of the restaurants.  You can imagine, with over 30 years of collecting we have forgotten a lot.  It was fun trying to remember.  Several of the menus are from where we live, so some of our friends remembered some of those restaurants.  A lot of them have closed, so we now have a treasure hanging on our wall and some great memories.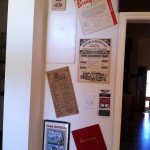 Finished Project
Since I didn't have anything on that wall I knew I was going to have to hang something.  I didn't have a clue what.  I also didn't want to spend a lot of money.  The menu idea really solved the problem.  And it's unique.  Now I'm thinking of other things I have collected to see what I can do with them.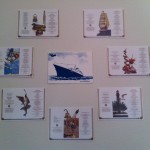 Do you have any collections that you have used to decorate in your home?